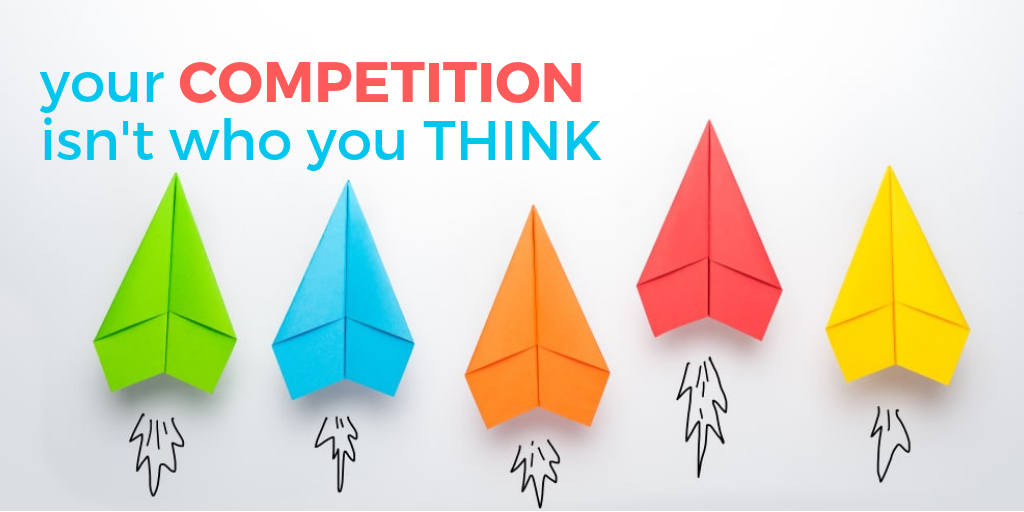 Your Competition Isn't Who You Think
We'd like to tell you a story.
So there's this guy who owns a small grocery in his small town. Let's call him Jack. It's the only one around, and many people come to Jack to shop for the groceries they need. At one point, another grocery store opens right around the corner. Jack, as a result, is a bit worried, because until now he had the only grocery store around. Now he has direct competition.
Well, that might have been true in the 1950s, for example, but not today. The reality is, business owners don't necessarily have to fear the competitor right across the street that's selling the exact same thing. Actually, we'd go as far and say that's not even your real competitor.
Show us a company's online presence, and we'll tell you who your true competitor is.
Let us show you how digital marketing fits in this mix.
Defining the Problem
In today's business climate, it's very hard for businesses to prosper without venturing into the digital world. Some owners have accepted that while others still have mixed feelings. But it's not enough to just be online anymore. The quality of your online persona matters quite a lot.
The perks of a good online presence may actually benefit small business owners more than companies. We tend to think these big giants in the business are monopolizing the industry, and that it's very hard for small businesses to stay afloat.
However, think of this statistic:
So the number may also be a bit inflated by the romantic image small businesses may have in the face of big corporations. But, many other studies show that a lot of consumers generally have very good opinions about small businesses, and would prefer to shop locally than from these big companies. However, there's another issue to address here, and this time we need two statistics to do it:
Even if most people want to support local businesses, about half of them still prefer to shop online for whatever they need.
And the reasons can vary:
More accessible

Access to online reviews

Checking competing businesses
The fact is, your competitor is not necessarily the other businesses offering the same things as you do. Today, you're competing against a vast sea of online businesses that have a digital presence. And, your potential customers can't help but compare you to them.
The Solution Isn't Easy – but It's Doable
We'd love to be able to tell you that you can fix everything by just creating a slick new website and a few social media accounts – but we can't. Because it's not true. Digital marketing is a complex endeavor that requires commitment and effort.
Simply put, your potential customers have certain expectations from the businesses they may or not buy from, and, at least at first, it may not have anything to do with the quality of the products or services you offer. It's about the whole user experience.
Here are a few things to consider:
1. Have a Killer Website
Sorry, but people WILL judge your business based on the websites that they use regularly like their bank, Amazon or their local grocery store.  How does your website compare to that user experience?
Your website doesn't just need to be visually pleasing, but also needs to check a few boxes users expect on ANY website:
Make It Fast – users won't wait for more than a few

seconds

for a page to load
Make It Easy – users need to find what they are looking for easily on mobile or desktop.

 

The menu must be well structured and get them to what they want as well as internal links to help them move through your website so they can do business with you. 
Make It Mobile –

 

More searches are done on mobile devices, at stop lights, in waiting rooms and on the couch while watching TV.

 

Your site must work even hard to serve your visitor on mobile devices than ever before. 
Did you know that 88% of users are less likely to visit a website again if they had a bad user experience the first time?  And it doesn't even have to be THAT BAD – just not as good as they EXPECTED it to be.
2. Be Social – Even A Little Bit
Social media is not just a place for cat pictures.  It is also a search engine and the place where people can see what others are saying about you, your products and services.  People use social media for proof that you can do what you say you will do. 
There are a lot different social media platforms out there, and you certainly don't need to be present on all of them, especially if you don't have a full social media team. But you still must be active where your target audience is.
So, if the audience you really want to reach are using Facebook or Instagram, then it makes sense to be where they are.  And keep in mind that your 'competition' is fully utilizing these channels to reach the people that you are trying to reach.  Your customers EXPECT you to be where they are.
When on your social media pages, people expect:
Interaction and conversation with others through comments and messages
To see you answer any questions customers may have 
To see timely news about your business, sales, other interesting information that is NOT found on your website's About Us page
To see reviews from existing customers to help them decide if you are worth contacting about their needs
3. On Point Customer Service
We've said it before but people are EXPECTING your customer service to be the same as Apple or Starbucks – even if you don't have a multi-million dollar marketing budget.  It's all about putting your customer's needs first, making it easy for them to do business with you and even being 'online' 24/7 like your grocery store is.
People now expect 'round the clock customer service, and they don't just want one way to reach you. Businesses now need to have multiple methods for people to contact them.  From social media to website chats, email and click-to-call phone numbers, people want to connect with you on THEIR TERMS.
And even if you can't be present 24/7 to help your current and potential customers, your competition is using digital communication tools. These tools allow them to start a conversation with automated responses to assure your customer that they are heard and that the process of helping them has immediately begun.  In many cases, this will diffuse a potentially negative situation while helping queue up a successful customer service call for your team when they are back in the office. 
The Takeaway
The days of beating your competition simply with a fancier sign or better price is over.  Starbucks proved that people will pay more to get the experience they want.  Understanding what kind of experience your customer is used to, likes and expects will help your brand meet their expectations.   
Your competition is not always a place. It is the best, most convenient, most friendly, most thorough experience (online and offline) your customers have received…and they expect this same experience from you. 
Let Us Help You
If you are ready to re-think what your customers are thinking about you, let us help.  We can help build a strategy that includes becoming the experience that YOUR competition is measuring themselves to.
Get new coaching articles as soon as they release. Sign up below.