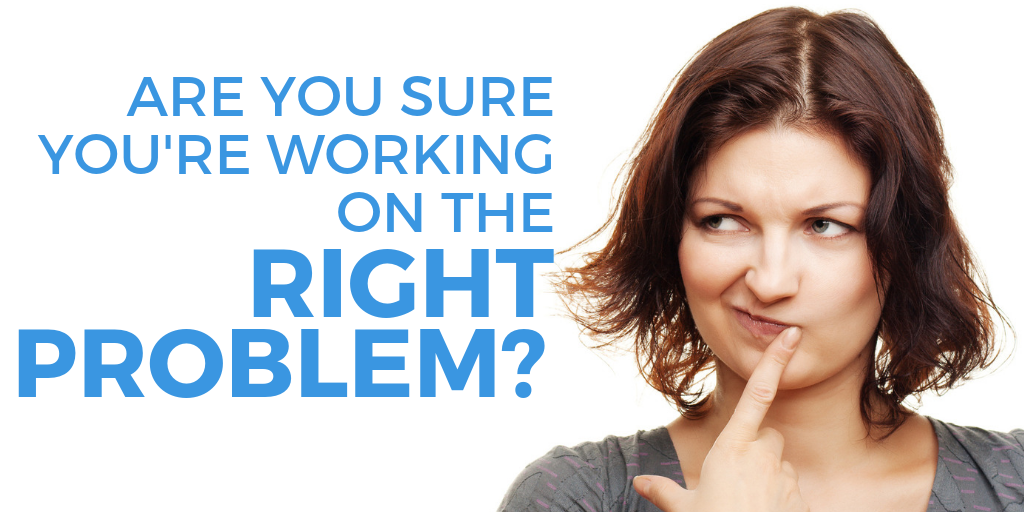 Are You Sure You're Working On The Right Problem?
Maybe you're staring at lackluster sales or seeing a steady drop in website traffic. But just when you start to think about why you are in this situation, you realize, you don't really know what is causing these situations? It could be dozens of things – or just one. How can you really be sure?
This is frustrating place to be. You need to reverse the trend but without knowing what is going on, it is difficult to know where to focus your energy, time and resources to bring about the change you need.
Clients come to us when they need to know what is going on and to feel confident that the things that are doing will actually do what they want them to do.
'UN-DIAGNOSING' THE PROBLEM
Doctors today deal with patients who come to them with a diagnosis AND treatment in hand. Armed with the latest articles from WebMd or Facebook, they tell their doctor what is wrong with them and what solution will fix their issue. Because their symptoms match up with those listed in the article, the patient is confident in their own diagnosis. In addition to listing dozens of possible symptoms, these articles usually offer recommended treatment options as well. So all the doctor really needs to do is validate the patient's diagnosis and prescribe the right treatment for the patient and things will get better.
Right?
In the digital marketing world, we see this same issue. Potential clients come to us with a problem and a self-diagnosed solution to that problem. All they want us to do is execute the treatment. Simple.
For example, a business might be seeing a sudden drop in website traffic. In doing some Google searches for "website traffic dropped", they get a results page loaded with different solutions to fix this problem. Similar to someone experiencing elbow pain who searches for 'elbow pain', they will likely find dozens of possible reasons why this situation is happening and likewise, dozens of remedies 'guaranteed' to fix the issue.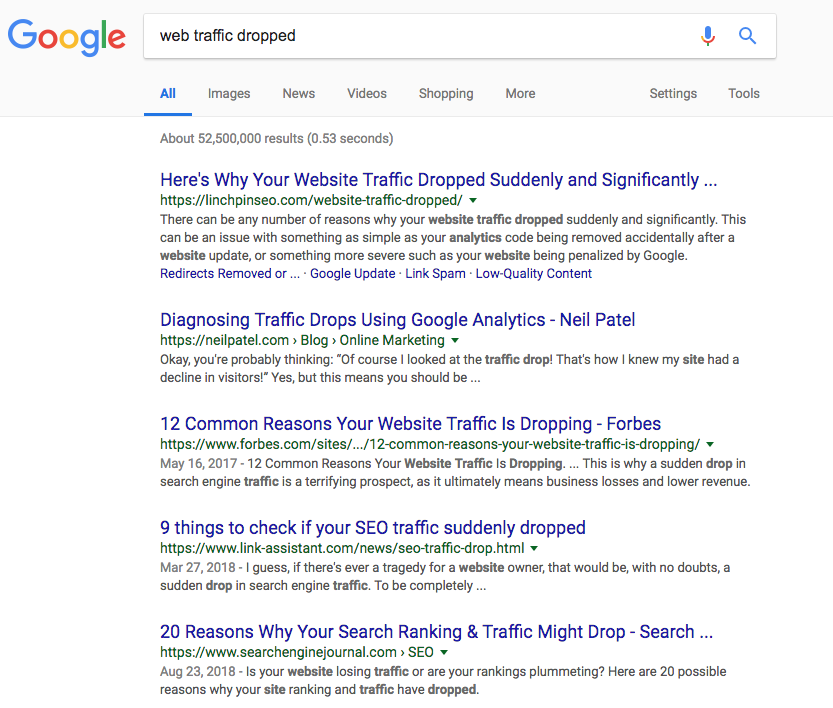 As people read through the potential causes and solutions to their business problems, they tend to pick and choose a combination of a cause and solution that both makes sense to them and that they can understand. Once they feel comfortable that their self-diagnosis is the right one, they turn their efforts to finding someone (internally or externally) that will implement their proposed solution.
THE PROBLEM WITH SELF-DIAGNOSIS
Unless you identify the right problem, your situation won't change – even if you choose the right solution for that problem. A client might think his sales problem is a reduction in his website traffic. He might be thinking that if website traffic increased, then he will get more sales and things would be great. But what if his real problem isn't the amount of his website traffic but that the traffic he is getting is the wrong traffic? Maybe the people reaching his website aren't the people who would ever buy from him?
Or maybe it is the right customer but they are not finding the content, solution or conversation they need in order to buy from him so they leave the website without buying.
When you start trying to solve the wrong problem, you end up spending time and money to solve the wrong problem. If this client invested in people and tools designed to drive more traffic to his site, his situation would likely not change. No matter how big his investment in traffic-driving tools, they might not result in the sales he was hoping for. So he is stuck with the same problem but now has less money and more frustration.
GETTING THE RIGHT DIAGNOSIS
Getting the right diagnosis is critical in changing the situation. For the patient, it means getting rid of their pain or illness. For our clients, it is about changing or fixing their situation that is caused by the problem or problems.
To get the right diagnosis, a good doctor asks the patient questions about his situation. She doesn't rely on the self-diagnosis of the patient to direct his treatment. She asks knowledgeable questions that helps paint the whole picture of the patient's situation. She then relies on her education, expertise and experience with similar cases to create the right plan to resolve the patient's situation. She asks questions about the patient's medical history, understands their insurance plan, assesses their willingness to listen to the treatment plan and then presents the best possible solution for that patient.
Likewise, it is our job to ask our clients the right questions in order to diagnose the right problem before jumping to the solution. Only when we have identified the right problem can we create a plan that will solve the problem and change the original situation.
PROVIDING CLARITY
Identifying the right problems if our first goal when a potential client comes to us with a concerning situation. Before talking about how much would it cost them to have us 'build something' they hope will fix their problem, we must first have a conversation about their situation. The better this conversation is, the better the questions we ask, the better we can help our client.
Asking the right questions and identifying the right problem happens in our client's office, on a conference or video call or over coffee. The next step is to engage in a roadmapping session so our client can see how to get to their goals. A roadmapping session actually maps out the way from where the client is now to their desired future state. The roadmap includes a starting point, and ending point and several checkpoints and milestones along the way to ensure that we always know where we are.

HOW DOES ROADMAPPING HELP MY BUSINESS?
A roadmapping session helps identify the right problems, presents solutions and helps give you a better sense of how much it will cost and how long it will take to start seeing results. This reduces the risk of you losing time and money of working on the wrong problem or not taking action at all.
The benefits that you'll get from a roadmapping session include:
A better understanding of the situation that you are in and how you got there
Confidence that you will be working on the right problems that will move your business
Identification of solutions and opportunities that will directly address the problems
A better understanding of the investment that you will need to make when working on solutions
Access to a valuable resource partner who can help you bring together the right team to work towards your goals
HOW MUCH DOES A ROADMAPPING SESSION COST?
A better question to ask is How Much Value Will This Roadmapping Session Bring Me? Everything has a cost. That is, how much money will I have to spend to get this? For a roadmapping session with us, there is a tangible cost that will vary depending on your business. Our goal is to help you realize quick ROI on your roadmapping session through new leads to your business.
But what is the VALUE of the roadmapping session?
To help answer this, here are some questions that are better to ask than 'how much will this cost'?
How much do I value knowing what the REAL problem is that is causing my situation?
How long have I been dealing with this situation?
What have I already spent trying to change this situation on my own?
How much sales, revenue, profits or productivity have I lost in this situation?
How much am I (and those who work for me) frustrated because of this situation?
What would be different if this situation was fixed (higher website conversion, more leads, more dollars per sale, etc.)?
Not knowing the right problems that are causing your current situation is already costing your business money every day. But unlike other costs in your business, a roadmapping session can bring about a positive return on your investment – and usually pretty quickly.
WHAT HAPPENS AFTER A ROADMAPPING SESSION?
After your roadmapping session, you will have greater clarity on what is going on. Like plugging a destination into your car's GPS, you will see various paths you can take to get you to your destination and even see how long you can expect it to take to get there.  If you have the team that can work on the specifics identified in the roadmapping session, you can be on your way. If not, the roadmapping session allows for a conversation about how our team can help implement the best options for your business so you don't have to waste any more time dealing with a situation that is likely costing your business money or opportunity.
GOOGLE IS NOT YOUR ANSWER
We live in a world where there are only milliseconds between us asking a question and getting pages and pages of solutions and 'how to videos' as 'answers'.
But there is still tremendous value in sitting down with someone that will invest their time to understand your situation and to help you create a plan and walk with you to solve those problems.
For more information about our Roadmapping session, click the banner below to set up a :30 minute call.

Get new coaching articles as soon as they release. Sign up below.