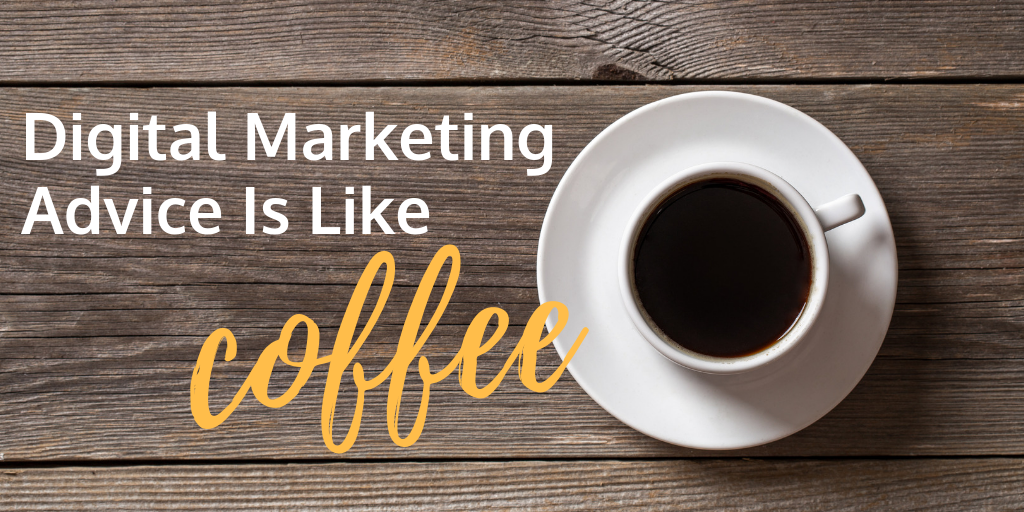 How Digital Marketing Advice Is Like Coffee
I love coffee. Iced coffee. Hot coffee. Coffee soda. Really, any kind of coffee. Lucky for me, I can get coffee practically anywhere and anytime I want.
When I want coffee, I can make it myself or I can go out to buy some. When I choose to buy coffee, there are countless places that can satisfy my desire. But the kind of coffee I choose at any given time is dependent on what I want to pay for the coffee, how much time I have and how good I want the coffee to be.
This is the same when talking about digital marketing advice.
Homemade Vs Store Bought
When I want coffee, the first thing I need to figure out is do I want to make it or go and get it. Generally, this depends on what I ultimately want in that moment.
The same holds true for digital marketing advice and digital marketing services. Do you want to do it yourself or do you want to pay for it? What kind of quality are you looking for and how fast do you want it? Like with coffee, there are advantages and disadvantages to both options.
The advantages to brewing your own coffee at home is that you do it yourself and it is usually far less expensive than when you purchase it somewhere. However, unless you are an expert barista with fancy coffee making tools, the quality of the home-brewed coffee is generally not as good as when you get it from the places that brews and sells coffee – and a lot of it – everyday.
With digital marketing, you can grab a coffee and your laptop and spend the entire day Googling digital marketing topics, reading tutorials and blogs and downloading free digital marketing resources. While you will learn about digital marketing, it won't be the same experience as if you went to a digital marketer for advice and to get specific answers to your questions.  And, you will still have to apply what you learned to your unique business environment.
So while you paid a lot less for your coffee and your marketing advice, you had to do all the work and your results still might not be as good as if you went somewhere else.
Buying Joe And Digital Marketing Advice
So even though you could make your own coffee, you've decided to go a local coffee shop. If you choose a fast food restaurant with a drive-through window or a coffee and donut shop, you can get your coffee fix without too much trouble. You know that it will be a little more expensive than if you made your coffee at home, but you are willing to pay more for the convenience and to get a better cup of coffee. Plus, you will likely be exposed to new coffee options than you never even knew existed, so those are clear wins.
As with coffee, with digital marketing, there are many places that you can get what you are looking for. Consultants and agencies typically help you figure out where your business is now and how to get your business where you want to go using digital marketing. With many consultants, however, it is like getting your coffee from the drive through window at a fast food restaurant. While you are getting better advice than you got on your own, the advice might not be exactly what you are looking for and you still have to compromise. In fact, many consultants only provide the advice which leaves you to implement on your own.
The Premium Pour Over With A Side Of Community And A Splash Of Wow
When it comes to coffee, you can really go crazy. Again, it all depends on what you want and what you are willing to pay for it. While I prefer the economics of brewing a whole pot of coffee at home with my basic drip brew coffee maker, I occasionally opt for the convenience of getting coffee quickly at a drive up window. But then there are times when immersing myself in the full blown coffee shop experience is exactly what I need.
I recently found the pour-over method of coffee where the barista hand pours the hot water over finely ground coffee. At first, I was skeptical. How can pouring water over coffee beans manually vs in a coffee pot be a thing? But I quickly learned that there is an art form to the pour-over. The person making your coffee has complete control over the brewing process, the flavor of the coffee as well as the smoothness and richness of the brew. The result truly is a better cup of coffee.
Of course, as you can imagine, a pour-over cup of coffee takes longer to make. But what you receive is coffee that is created just for you and customized to exactly how you like it. For me, I am reminded that the difference between a good cup of coffee and a great cup of coffee depends on the expertise of the barista and how the coffee is made.
Digital marketing tends to be the same. The tools used in digital marketing, like the ingredients used to make a cup of coffee, are the same for all businesses. Great content, SEO, websites, targeted paid search campaigns and other key ingredients are needed to drive the right people to your business. They are the same ingredients that most digital marketers use.
So it comes down to what kind of experience or results do you need, how much are you willing to invest to get those results and are you willing to let someone with the expertise handle it for you?
When I go to a coffee shop, I am investing my time to drive and wait in line. It is also the most expensive option. But beyond the coffee, I am also drinking up the retailers brand, seeing experience in action, interacting with the barista and utilizing my time to do other things when I drink the coffee from a comfy chair. When you invest in digital marketing advice and services, you want a return on your investment. But you also get something back. You get back time when you have a professional create a digital marketing strategy and execution plan that is just for your business and that helps you reach your goals.
Back At Home
Since experiencing great pour-over coffee, I have tried to make a pour-over cup of coffee at home. It is nothing like what I have purchased from my favorite coffee shop. I am sure with enough practice, better coffee beans, purified water and patience I can get pretty close. But I choose to invest in others who know what they are doing so I can get back to doing what I know which is helping my clients take their business from point A to point B, and then to point C and beyond using digital marketing.
Can We Buy You A Cup Of Coffee?
There is nothing better than planning big things over great coffee. So let one of our experts buy you a cup of coffee at one of our favorite coffee shops and we can talk about your business goals. We'll pick up the tab for your coffee and you'll walk away with some ideas that will help your business and probably a new passion for coffee.
SCROLL DOWN TO SCHEDULE A TIME OR CLICK HERE.
Get new coaching articles as soon as they release. Sign up below.