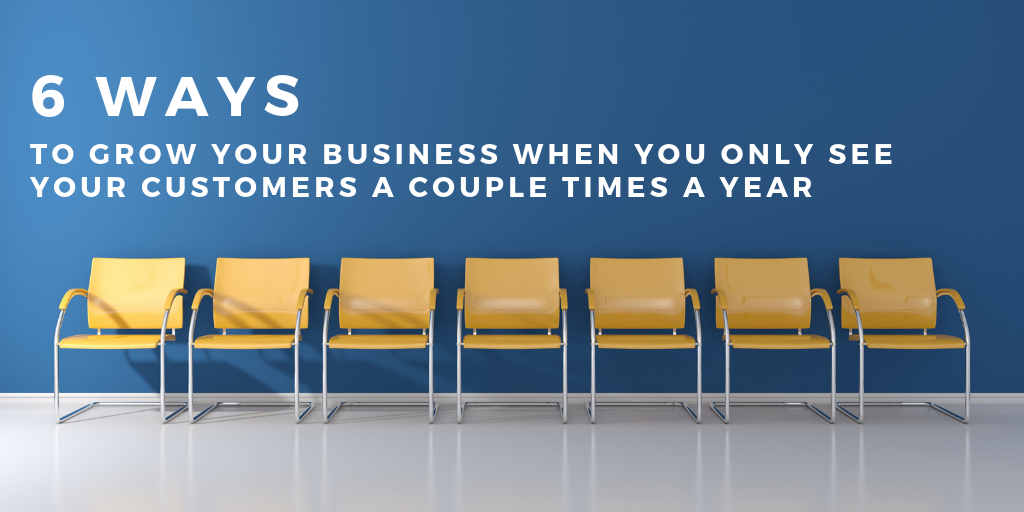 6 Ways To Grow Your Business When You Only See Your Customers A Couple Times A Year
How often do you see your BEST customers?
Once a day? Once a week? Once a month?
If you are a coffee shop, then you probably see your best, most loyal and most profitable customers several times a week. But if you are a business that only see your best customers a couple times a year, you have a challenge.
How can you develop a strong, lasting and profitable relationship with your customers when you don't get a chance to serve and wow them very often?
For this article, we will use car repair and tire shops as an example of a business that has this problem. But there are other businesses that have the same customer problem – plumbers, HVAC professionals, mattress retailers, realtors – just to name a few.
The Car Repair / Tire Shop Customer Problem
Similar to many other businesses, if you are a car repair, maintenance and tire shop, by nature of what you offer, you may only see your customers a couple times a year. If you are a tire-only business, you may only see your customers – at best – every 5,000 miles for a tire rotation. That is, of course, if you have convinced them that they need to rotate their tires regularly. If not, you might have a large database of customers you only see when they need new tires every 3-4 years.
So how can you connect with your current and past customers so that even if you only see your customers a couple times a year, you can still guarantee their future business?
Here are 6 ways to use digital marketing to maintain and grow your business when you don't see your customers as frequently as the local coffee shop:
1. CHECK YOUR LOCAL SEO / SEARCH ENGINE OPTIMIZATION
When you don't see your customers frequently, your business has to rely more on getting new leads coming into your business. So having your business listed in local directories is important in order to be considered as an option for your target audience.
For businesses that have a physical location where customers do business with you, it is critical that your website is optimized for your city name and address so that Google knows that you are a business that people can visit.
When your website is properly optimized for local search, your business name, website link and contact information is also more likely to be listed in search results and Google Maps – which is important for when people are looking for a physical business.
There are dozens of free tools available that can show you how well your website's optimization is and where your site needs improvement.
Click below to use our free, website audit tool.
Our report also includes the ability to see how your
website ranks against your top competitors.  
2. CREATE GREAT CONTENT (AND LOTS OF IT)
The importance of creating regular – and good – content cannot be overstated. Content is what people are searching for before they search for a place to do business.
Content refers to just about anything that you create which include web pages, landing pages, blog posts, videos, downloads, PDFs and images and plays a major part of what Google uses to rank your website organically in search results. Generally, the more SEO-optimized content you have on your website, the more Google has available to index and serve up your content to your desired target audiences.
The more your content matches up with what problem or need your target audience is seeking to solve, the better your website will rank in search AND the better chance you have of getting a new, qualified lead.  
Here's why:
Generally, before people look for a place to visit, they usually search for information related to what they want. People looking for new tires, for example, might first search for something like "best tires for 2015 Honda Odyssey Minivan" before they look for "Tire Shops Near Me".  This allows them to learn about different tire options, tips for comparing tire brands and features, price range and even what size tire their particular vehicle takes. Since tires are an infrequent purchase, your customers will likely want to get as much information as possible to help them navigate the sales conversation when they are in your shop.
No matter what people are searching for, people usually do some form of research before making a purchase or visiting a local retailer or service provider.
Take WebMD
Before calling a doctor or visiting an urgent care location for a non-emergency medical issue, people tend to Google their symptoms to see what might be going on and what to do about it.
Likewise, car repair shops are seeing more of the 'WEB MD' effect. More and more customers are coming into repair shops armed with what (they think) is wrong with their car and in some cases, what the mechanic needs to do to fix the problem. Some go as far as finding out how how much the replacement part should cost and much they should expect to pay for their service too.
By providing specific content that answers your potential customer's questions, you can help turn a casual information seeker into a potential customer.
3. SEND REGULAR EMAILS
For businesses that don't see their customers regularly, it is critical to develop and maintain an ongoing relationship in between visits. Here is where email marketing plays a huge part in your digital marketing strategy.
Because you don't have the opportunity to personally connect with your customers as frequently as a coffee shop or grocery store, it takes a more concentrated effort to maintain a relationship.
Your customers did business with you because you were able to solve their problem or fulfill their need. In other words, you earned their trust. So it is important to remind them over time that you solved their problem and you will be there to do it again.
In addition to the regular, 'hello we are still here' reminders, sharing information about other services and products you offer can re-engage past customers and may even shorten the purchase cycle.
For example, if you are emailing a customer who only purchased tires from you, reminding them WHY it is important to rotate their tires and WHEN it is time for a tire rotation can bring the back into your shop. Plus if your shop also performs maintenance services, like oil changes, mentioning that you also perform oil changes and including a money-saving oil change coupon can bring them back into your store more frequently – giving you a chance to deepen your relationship with them.
By reminding them how you can help protect their tire investment and save them time and money on another needed car service, you are providing added value and are on your way to converting a tire-only customer to a tire and service customer.
In addition to talking about your business and services, adding content to your email related to their purchase can also add value to your relationship. So, including an article about how the right way to rotate tires demonstrates your expertise and helps educate them on the service that you are trying to sell.  Most importantly, your email message contains enough added value that they will not remove themselves from your email list – allowing you to connect with them again next month.
When your brand regularly shows up in your customer's inbox, the chance that your customer remembers you when they need service, tires or repairs increases.
4. BE ACTIVE (AND STRATEGIC) ON SOCIAL MEDIA
Similar to email marketing, social media is a great way to connect and re-engage with past and current customers – but only if the content you share provides value to your customer. Brands that only post offers and deals tend to have stagnant and disengaged followers which does not result in sales, shares or new leads. Worse yet, if your brand doesn't continue to provide entertaining, useful and engaging content, your followers may unfriend you and you lose that connection with them. Posts that don't get engagement (likes, shares or comments), also tend to be displayed less making your brand show up less in people's pages.
While communicating with your current and past customers is important, your social media strategy should focus beyond customer retention. The real power of social media is to reach people who are not following you and engage with them. By engaging with people who are not your customers, you are giving them a chance to 'get to know you' in the hopes that you will be able to serve them in the future.
To get non-followers to see your content and engage with you on your social media platforms, the key is great content (a recurring theme here). When you create content that is interesting, engaging and 'shareable', new people get introduced to your brand. When your followers like,  share or comment on your posts, their friends can see that and your content gets exposed to a potential new audience. And since their friends shared, liked or commented, it serves as an pseudo-endorsement for your business – giving your content that much more power and relevance.
Be Strategic
Creating great content on social media is more than sharing a cat video. You must be strategic in what you create. Your content – and the content your page shares – need to match your brand and tie directly into your overall digital marketing strategy and goals. Your content also needs to be directed towards your target audience (who you really want to reach) and what matters to THEM.
Your audience has pain points. By creating content that helps them solve their problems is the first step in earning a new lead for your business.
Be Consistent
As with email marketing, it is important to be consistent when you are on social media. Keep in mind that generally, people will scroll their news feeds for only a minute or two each time the check their page. That means that there is a great chance that no matter how great your content is, your target audience and your engaged fans won't see your posts. But if you are consistent in what you share and when you share, you will have a great chance of connecting and providing value to the people you really want to reach.  Consistency in posting also helps the social media algorithms show your content.
5. INVEST IN PAID ADVERTISING
People Google everything. It is the first thing people do when they have a question, need something or need to find a place to do business. When people use search engines, they are actively seeking information. This gives your brand an incredible opportunity to connect with those who are asking questions and seeking information and drive them to your website and, ultimately, into your place of business.
Paid Search is about getting your message, ads and offerings in front of those people who are actively seeking what you have to offer. Back to our car tire example, if someone is searching for "Tires For 2015 Honda Odyssey" and you have a paid search ad that is offering a deal on "Tires for 2015 Honda Odyssey", you have just jumped in on their journey and is offering a solution for EXACTLY what they are looking for.
With Paid Search, you can go beyond just matching a search term like Tires for a 2015 Honda Odyssey. Your ad can appear in a certain geographic area, only to females, only to people 25-50, or hundreds of other combinations to ensure that your ad appears to exactly the person you want to reach.
Paid advertising goes beyond paid search. Paid social (Facebook, Instagram, Twitter, etc), allows your content to appear in people's social media timelines and on their pages. While paid search targets people who are seeking information, paid social is about putting your content in the news feeds of people who are most likely to engage to your content.
In addition to demographic segmentation, paid social also pulls in psychographic traits so you can reach people based on their interests, social affiliations and even create complete audiences based on the likes and behaviors of the people you want to reach.
The targeting combinations and potential is almost limitless when using paid advertising to reach the people that are important to your business.
6. ENGAGE IN INBOUND MARKETING STRATEGIES

In its basic form, InBound Marketing is about attracting people to your website with relevant and helpful content. Similar to what we discussed in the Content Section of this article, InBound Marketing provides value to those people you want to reach.
Going back to our example of someone searching for tires for their 2015 Honda Odyssey.  While you could drive someone to your main Tires We Sell page on your website, an example of a more valuable InBound Marketing strategy might be to drive people to a landing page that features a FREE Tire Buying Guide designed to make it easier for people actively shopping for tires to choose the right tire for their vehicle and budget. Even though this would be a free shopping guide, they would need to provide you with their email and contact information in order to download it, thus giving you a qualified lead that your sales team can contact.
InBound Marketing is usually supported by a paid search / paid social advertising campaign. By tying an advertising campaign to your content, your content will appear in front of people who are most likely to find value in your content. In the Tire Buying Guide example, the target audience is in the market for tires. Because you are helping them navigate this process, you are more likely to get their tire business because you are providing value and expert assistance vs other brands who are just providing the products with little else.
THE TAKE AWAY
Keeping your past customers engaged and driving new customers to your business is hard work. When you only see your best customers a few times a year, it is even more critical that you have the right strategy to reach and engage with them.
Our team can advise you and help create a digital marketing strategy for your business so that you are taking advantage of all the digital marketing tools and tactics to drive existing and new customers into your business.
During my corporate career, I've only worked with Fortune 100 companies, including 17 years with the world's largest car repair and tire retailer in the world.   
When your customers only see you a couple times a year, knowing your customers are looking for and how they are using Google to find businesses like yours and how to maintain a long-term and profitable relationship is critical.
Let's talk about how my team and I can put the power of digital marketing to work for your brand.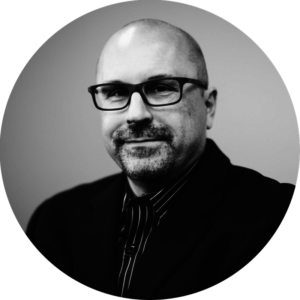 Get new coaching articles as soon as they release. Sign up below.