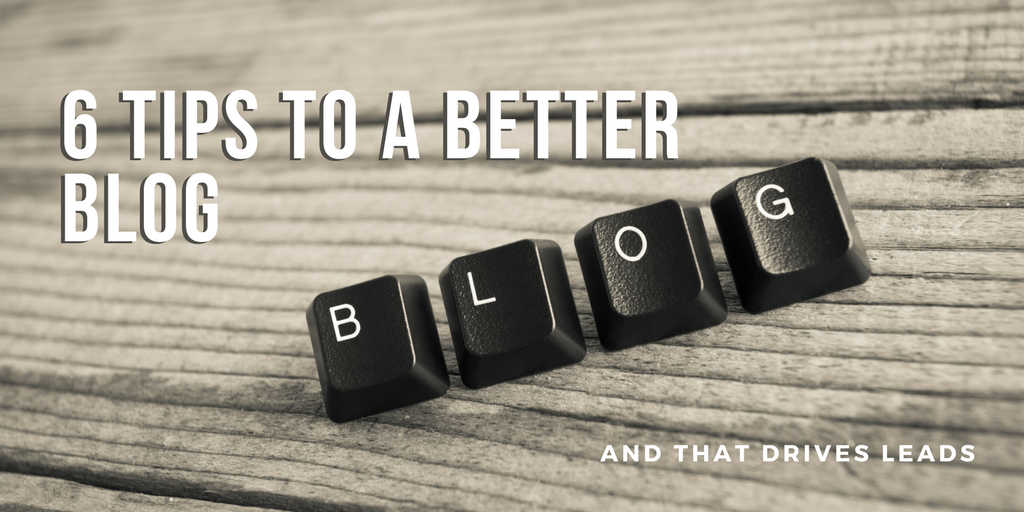 6 Steps To A Better Blog
(That Generates Leads)
We are approaching the new year. This means that many people are preparing to start a new year's resolution of some kind. If you are a marketer, you likely have a list of things you want to start (or stop) doing in the new year.
For many business and marketers who are committing themselves to InBound Marketing in the new year, starting – or restarting – a blog is likely near the top of their list. They know that engaging with prospective leads through website content pages and blogs is an important tool in improving organic SEO rankings and getting site visitors to convert into real, paying customers.
RELATED CONTENT: The Difference Between a Home Page, Landing Page and a Content Page for more writing tips.
But writing blogs is truly a commitment that a business needs to make in order for them to achieve their InBound Marketing and business goals.
Why Do You Need A Blog?
Very briefly, having a blog on your website is good for SEO. Blogs help your website become more valuable to your prospects and potential leads. When you have a website that changes frequently with new content that is RELEVANT to those people who you really want to reach (i.e. your prospective customers), Google moves your website up in search rankings for that content / keywords.
While there are many reasons to have a blog, having an active blog helps you connect with your target audience, helps in your SEO and keeps you active in your own business.
But like anything in digital marketing, if your blog post isn't "Google-Friendly", then it won't deliver the results that you want, which is the reason why you are blogging in the first place.
Below are some quick tips to help you BLOG WITH PURPOSE and to help achieve the results you are looking for. These tips are based on the latest Google algorithm changes so that your blog content is effective and can help your SEO.
How Often Should I Blog?
This is the most frequently asked question about blogging. People ask this question not because they are so excited to write blog posts but because blogging is hard, time-consuming and difficult to sustain. While the 'right' frequency of your blog posts depend on your marketing goals, your business, your competition and your target audience, generally, you should be blogging "frequently and consistently". For some brands, that will be a new blog post every day while for others, it might be once a week.
The key is to make it a business habit and stick with it.
How To Write A Good Blog Post?
The following are basic steps to help you get started writing a blog post.
Step 1: UNDERSTAND YOUR AUDIENCE
This step is actually the first step for ALL your Digital Marketing. If you do not understand your target audience(s), then your marketing will lack focus and won't be interesting to those you are trying to reach.
Reaching your target audience goes beyond identifying basic demographics. That is, you need to know more than their age, gender and income. You need to have a CLEAR and DEEP understanding of your target audience.
Some of the things that you need to understand and internalize might include:
What do they want to know about?
What interests them?
What drives their decisions?
What do they worry about?
What problem(s) do they have that YOU can solve for them?
Understanding what interests your target audience(s) can help you determine what to write about in your blog post which can start a conversation that can lead them to your brand.
Step 2: START WITH A TOPIC AND A WORKING TITLE
While this sounds like common sense, picking the topic to write about is a strategic and important first step in creating a blog post. Start by picking a topic and working title that is important to you, interesting to your audience and important for your business.
For instance, if you are in the car repair business, one of your strategic business goals might be to drive more brake repair business. So you need to find people who need new brakes. But how?
To reach people who do not know if they need brakes – yet – you might want to write a blog post with a catchy title that also matches a popular Google Search, such as "Why Do My Brakes Squeak". This is a common problem when you own a car. There will come a time when your brakes start to squeak. But does that mean that you need new brakes?
By writing a blog post about something that is commonly entered in a search engine, such as "Why Do My Brakes Squeak", the car repair shop can educate someone who is looking for an answer to that question. While these people might actually need brakes, they are first looking for an answer themselves as to why their brakes are squeaking.
By being the brand who answers their question, the car repair place demonstrates their expertise and through the blog post, the brand can invite the person into their shop for a brake inspection to determine if their brakes are squeaking because they need replacing.
In this example, by answering a popular search question about brakes, the car repair place can generate leads to their website and, over time, Google can serve up this website when people are searching for this question. By pairing up a Call To Action with the blog post (we'll talk about that later), the brand can turn a casual reader into a potential customer using a blog post that matches a search about squeaky brakes.
Step 3: WRITE AN ENGAGING AND CAPTIVATING INTRODUCTION
Let's face it, people have a limited attention span these days. If you can't capture and keep people's attention quickly, your blog post – no matter how great – won't be read.
Simple ways to be engaging comes from what you learned in high school during speech class – open with an interesting fact, offer a startling statistic, tell a story or even share an empathetic story to CONNECT with what your target audience is feeling and going through. By connecting with them emotionally, you have better chance at keep them reading the rest of your content.
Step 4: ORGANIZE YOUR CONTENT
This seems logical but many times, blogs are simply a mess. Blog and website content is very, very important to Google. Generally, the more optimized content you have on your website and in your blogs, the more Google has to work with in order to rank and index your site. The more content you have about a certain subject, the more Google can use that content to help your website rank for that subject.
But for people – especially people who read website content on their mobile device (which is nearly 60% of us) – they want the information presented quickly so they can move on.
Successfully balancing the large amount of content you need to rank on Google and the minimal amount of content you need for human consumption is a key balance.
So how do you achieve this balance?
No matter how long your blog post is, it should feature short paragraphs or sections that are separated by titles / headings. Not only does this make your page much more appealing and inviting to readers than a full page of text, it also helps make it easier for a reader quickly scan the entire document by reading the paragraph heading and the first sentence or two of each paragraph. While Google will read every word, your readers generally won't.
Another effective way to organize your blog post content is to organize your content into lists or tips, whatever's most appropriate for your specific content. By using lists and tips, people can consume the information quickly without reading everything.
Step 5: START WRITING YOUR BLOG POST
Once you have identified the target audience that you want to reach, internalized what is important for your audience to know and created a blog title, the next step is to create an outline of your blog post. The outline will help you know what sections are needed to get your point across and move the blog visitor from being passive reader to active lead.
Then start to fill in the blanks in your outline and write your content. Again, keep your target audience in mind and always connect back to talking about THEIR NEEDS instead of talking about what YOU want. By connecting to what they want, you will keep them engaged and have a better chance of earning their business.
Step 6: OPTIMIZING YOUR BLOG POST
The final step in a creating a great blog post is to optimize your content. Optimizing is what needs to be done to make sure that your website and your blog post is ranked by Google and found when people are searching for the content you just wrote.
Optimizing a blog post is no different than other pages on your website. You want to make sure the blog post follow the same optimization rules that the rest of website follows including using the right amount of relevant keywords in your content, using title descriptions, meta tags, providing internal linking to other relevant content and using Call To Action buttons to help drive the reader to take the desired ACTION on your website, such as sign up for email, click to call or to make an appointment.
THE TAKE AWAY
Blogging and content marketing, in general, is very important when marketing your business. While it is time-consuming and sometimes frustrating, content creation and marketing:
Connects with your customers, target audience and prospective leads
Is an important part of your digital acquisition strategy
Helps your website's SEO and search ranking
Gives your website and your brand authority, expertise and a competitive advantage over your competition
Is very useful in social media, content marketing and in outreach
HAVING TROUBLE WRITING YOUR BLOG?  WE CAN HELP.
Writing engaging and interesting blog content that also drives your brand is hard.  And doing it week in and week out is difficult and time-consuming. That's why we have a team of expert writers who will understand your brand and write content that works to achieve your goals.
Click below to learn how we can help your business with SEO-optimized content writing for your website and blog.
VISIT:  Content That Drives Leads and Engages Visitors to learn more. 
Book an Advisory Session
Let's talk about your business goals.
Sign up for a 30-minute complimentary call.