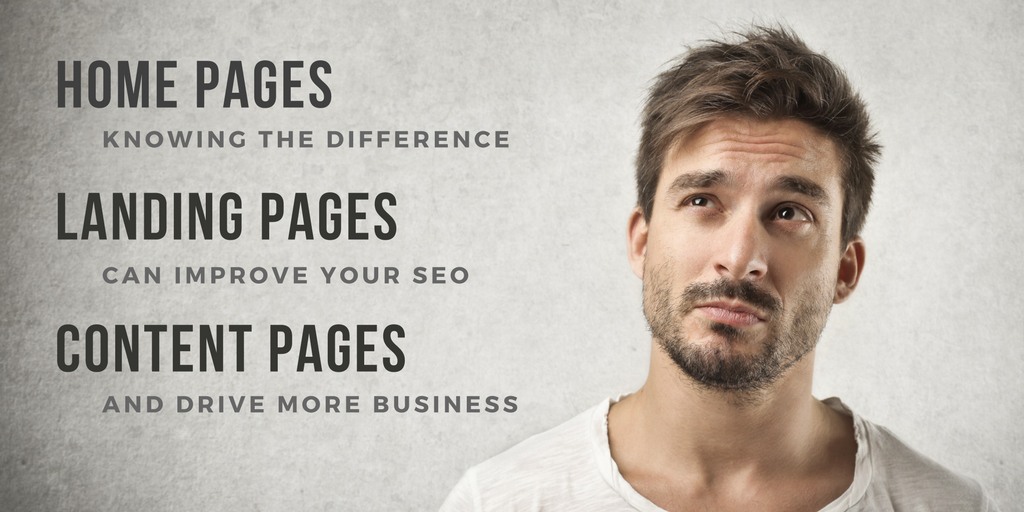 The Difference Between a Home Page, Landing Page and a Content Page
If you plan to use your website to generate new leads and to convert website visitors to actual paying customers, then understanding the difference between Home Pages, Landing Pages and Content Pages is critical.
The days of people spending time 'browsing' through all the pages on your website are over. Today, people who land on your site are there to get the information they are looking for and get onto the next thing on their to do list. That means that there is a good chance that your potential customer will read only ONE PAGE on your site. That is why EVERY PAGE on your website has to have a solid strategy, attainable goals and a purpose for being there.
With that being said, different pages on your website have different strategies, different goals and should result in a different action by your site visitor to help them on their journey from visitor to customer.
What Is A Customer Journey?
This is still a buzzword in the digital marketing world and for good reason – because it is still a thing. Customers are on a journey. And it is important to understand that their journey did not begin on your website nor will it end on your website. Whether it is to purchase a product, find a service or hire a company, they are making small steps along the way to getting what they want. The particular journey your prospective customer is on will vary but generally, they will wander through the traditional decision making process – Awareness, Consideration and Decision Making.
Your website's job is to help them from wherever they are along in that journey to the decision making stage. By answering questions, providing information and demonstrating your understanding of their situation and your ability to solve their problem, you can guide them in their journey to becoming your customer. If you do it well enough, their journey will take them to your online shopping cart, your click-to-call button or your email inbox.
Let's look at three very important pages on your website, what they are for and what they are supposed to do.
Your Home Page
The best way to think about your home page is like the front door of your home. Like it or not, people walking up to your house WILL make judgments about you even before you have a chance to say introduce yourself. If your front door is dimly lit, hard to navigate through overgrown bushes, is messy and unwelcoming, they may not even ring the bell. Furthermore, if your visitor doesn't know what to do when they get to your door (for example, they can't find the doorbell or find that the doorbell doesn't work), you will likely lose the chance to meet them and won't get a shot at selling them on your brand, products and services.
This is the same for your website's home page. On average, a site visitor will spend LESS THAN 10 SECONDS on your home page before deciding whether to stay on your site or go back to do another search for a different website. It is also important to understand that your potential customer will likely visit your competition right BEFORE or right AFTER visiting your website. So in addition to competing on price and service, your website must also be MORE welcoming, MORE friendly and MORE useful than the site they just visited or they will visit next for them to connect with you.
While your home page should showcase your brand identity and persona, it must also stand out from other similar websites. More importantly the content on your home page needs to be about THEM – not you. It seems counter-intuitive not to talk about yourself on your own website. But remember, they are on your website because THEY have a need that you will have to meet. Your home page must communicate that you understand their challenges and that you have the right solutions for them.
The goal of your home page is to STOP them from seeking more options and to direct them to either connect with you or continue deeper into your website to learn more about how you can help THEM.
All in less than 10 seconds.
Generally speaking, home pages are for people in the Awareness Stage who have never been to your site before. This means that your home page should help them move around the site and never assume that your visitors know what to do or where to go next.
What Is A Content Page?
Most of your website will be content pages. Content pages are the pages that continue the story that you have started on the home page, from the menu or even off the website – say a paid search ad or social media post. Generally, content pages are for people who are in the Consideration and Decision stages. They are looking for more specific information about solutions and what you can offer them. (It is important to note that at this point in their journey, your potential customer is still not interested in YOU.)
Content pages support the topics in a category and should be fully optimized for important and relevant keywords and phrases so your website can rank organically on page one when people use a search engine. Oftentimes, people will come to these pages from the home page or from a drop-down menu.
To go back to our house analogy, at this point, your potential customer has made it through your front door and decided to stay a bit. They tell you that they are hungry so you walk with them into the kitchen where you will offer them more content – like a menu – so you can determine if you have something that they might want to eat. They know you have other rooms but for now, they want to be in the kitchen.
The goal of the content pages is to easily move your site visitors from page to page and to help them continue in their journey. The ultimate goal of the content page is two fold:
To have your website rank on page one in search engines for the pages that contain relevant content to their search
To get your site visitor to stop searching and to contact you so you can actually meet them and attempt to earn their business
The more content pages you have, the more content Google has to index and the more your site visitor can learn, evaluate and decide that YOU are the one to do business with.
What Is A Landing Page?
As the name suggests, a Landing Page is the page where your prospective customers will land – usually after following a link that is promising an answer to their problem. Landing pages are very important pages and are generally under-utilized in digital marketing. Unlike content pages and home pages, which tend to be static and passive, landing pages are active and dynamic. The content on Landing Pages should be concise, have a narrow focus and offer only one, single action the visitor can take. This is referred to as a Call To Action. By limiting what the visitor can do on your Landing Page increases the chances they will do want you want them to do.
Think back to a time you visited a restaurant and there were TOO MANY choices on the menu. Having too much to read, click, view and engage with on a website page reduces the conversion rate. This is why Landing Pages usually have a single topic, limited text and a clear Call To Action.
Call to Actions can be a BUY NOW button or for brands that do not sell online, a CLICK TO LEARN MORE / SIGN UP button. Landing Pages have limited content that is targeted towards the specific need your visitor has. It is not for browsing. In addition, the landing page should not have unrelated content, menus or other navigation that can distract the visitor or take them away from what you want them to do on that page.
Landing Pages are best used in combination with paid search campaigns because, when done correctly, they deliver on what the paid search ad is promising which will result in greater conversion, a more economical paid search campaign, a better visitor experience for them and more leads / sales for you.
The Take Away
Strong websites that RANK WELL in search, ATTRACT the right leads and CONVERT leads to sales are websites that start with the right digital strategy and execute the strategy consistently. Using the right mix of an engaging home page for first-time visitors, a lot of content pages for Google to index and your customers to consume and targeted landing pages to support inbound marketing campaigns will help your website provide a positive return on your investment and power your brand.