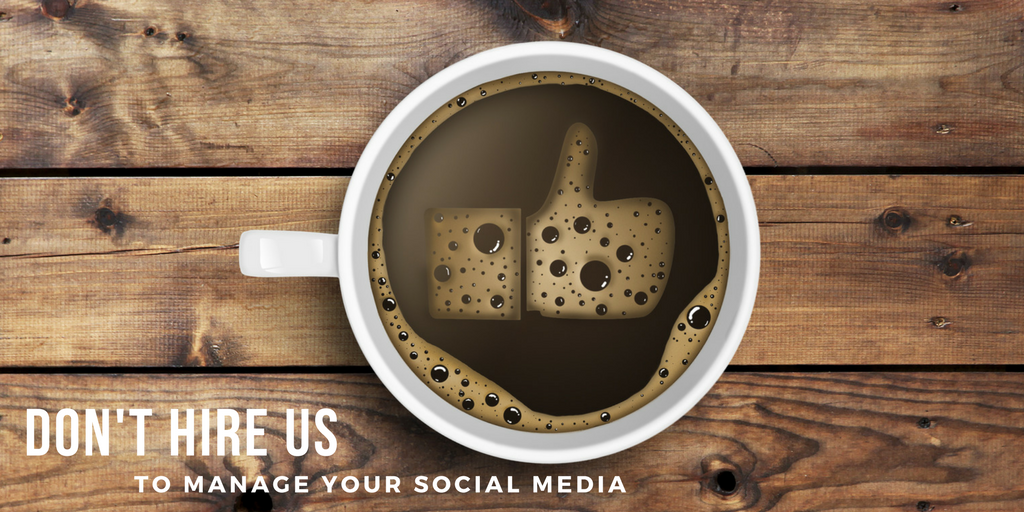 Do Not Hire Us To Moderate Your Social Media Platforms
Well, that doesn't seem like good advice for an agency like ours who offers social media services. But of all things that you can (and should) hire us for, moderating your social media platforms, should not be one of them.
Why You Should Not Hire Us
No matter how much time we spend with your team, we will never have the institutional knowledge needed to be fast, authentic and an expert in what you sell, the services you provide or the advice that only you can give in day-to-day moderation of comments.
Of course, we do have clients who have us keep an eagle eye on the platforms, be first responders with helpful advice to diffuse outraged customers and a quick redirect to resources who can help. But a better practice is to have us train some of your young, social-savvy go-getters to be the primary voice of your brand on social media.
Our team can train your social media moderators how to get out of tricky situations and traps that are commonly set by social media trolls and angry customers. In addition, we can help your team use negative, real-time experiences to actually build your brand and improve your social media community during a tough day.
Why You Should Hire Us
Now that we've told you why you should not hire us for social media community moderation, here is why you should hire our team to help your social media team.
SOCIAL MEDIA STRATEGY:
Before the first tweet is posted and the first Instagram pic is filtered to look cool, a solid social media strategy is necessary because EVERYTHING that you do needs to support your overall business strategy. Otherwise, it is just a series of random posts and uploads which will leave your followers questioning why they followed you in the first place. After all, would you take car repair advice from a brand who sells toy cars?
Once you have a solid social media strategy that anyone on your social media team can follow, an execution plan is necessary. By creating regular content calendars, you can be sure that the right conversations are started in the right places, so that the right people are reached and the right actions are taken – like coming into your store or calling your business.
CONTENT MARKETING:
No matter how quippy and timely your social media team is, content is serious business. Every piece of content needs to – you guessed it – tie back to your digital and business strategy. Content also needs to be in-sync with your SEO goals so that Google likes your stuff and people read it and, more importantly, share it in their own networks.
MEASUREMENT:
At some point, your CMO, CEO or, worse yet, your CFO is going to ask you, "what are we getting by having some person in marketing spend all day on Facebook?" You need metrics, analytics and measurements. You need to be able to share with those who don't understand the value of social media just how your perfectly timed, late night tweet has helped generate a 33% rise in site traffic to the new product landing page AND, by looking at the analytics platform, caused a spike in conversions on the page which led to record sales.
Without analytics, there is no proof that social media led to the sales explosion.
PAID SOCIAL:
Like any other form of advertising, it doesn't make sense to dump a bucket of cash in hopes that it hits the right people as they were about to take action. Those days are gone with the carpet-bombers. In addition to the usual demographic targeting, social media advertising lets us target in a whole new way including psychographics, behavior, affiliations and actions taken on the social media platforms. There is some really scary, big brother stuff that we can do now.
And it works!
EXPERTISE:
One of the top jobs that agencies are supposed to do is keep on top of the trends, the algorithms, the platforms and best practice techniques in social media. This allows us to bring the latest tools to your brand so we can properly use social media as the brand building and acquisition tool that it needs to be. Unless your social media team regularly sits in 3 day social media seminars and digital marketing summits, they are likely keep pace with the pack at best. Agencies are always looking for the competitive edge in the ever-changing world of social media to bring to their clients.
There are more benefits to using an agency who speaks social media than listed above. The best team is a partnership between your internal employees and external agency partners – who both have a stake in your brand.  
KEEPING IT FUN:
When you add eyeBrand to your social media team, we can keep things on track and on strategy while your team can focus on the fun part of social media. This will help keep your team from experiencing Social Media Burnout. 
Book an Advisory Session
Let's talk about your business goals.
Sign up for a 30-minute complimentary call.